ABOUT KIMTEK
Our company roots stem from "walking the walk" with our staff's involvement with volunteer firefighting and EMS in our community.
KIMTEK CORPORATION was founded in 1984 as a research and development company dedicated to advances in life safety technology in the fire sciences.
Founder and President, Kimball Johnson is the holder of several U.S. Patents covering such items as life safety fire sprinklers for commercial and residential buildings as well as life-enhancing exercise equipment for body fitness and health.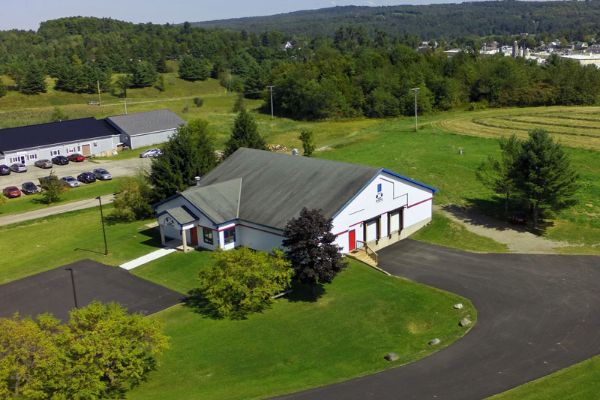 Our Facilities
Located in northern Vermont, KIMTEK continues its 40-year mission of research, development and production of a number of products for first responders. 
On May 1, 2015, KIMTEK expanded into a second facility located at 326 Industrial Park Lane in Orleans VT. 
The move triples the amount of space now available for company operations, from what was the original facility in Westmore, VT. 
This new building increases production and office space and will increase R&D capabilities. The new facility also affords KIMTEK greater opportunity to create new designs; specifically prototypes targeting off-road transport and fire/rescue needs within the world wide medical, fire and rescue communities.
KIMTEK office headquarters have been relocated to the Orleans facility. 
Our products are designed and built in Vermont by true craftsmen. 
EMS, Fire & Law Enforcement
Today, KIMTEK offers an entire series of medical rescue MEDLITE® Transports, one to meet almost any need and budget. The FIRELITE® Transport series offers an impressive lineup of fire and rescue slip-on skid units for UTVs. Law Enforcement is also represented with the addition of our LEOLITE® Transport line.
Our staff is ready and willing to help you with your purchase of the UTV skid unit that best meets your needs.
Kimball Johnson retired as Fire Chief of Westmore Fire-Rescue and as an EMT. He continues on as a founder and lifelong member of the department and is always available to fulfill any role the department needs.
As KIMTEK is the largest manufacturer of UTV/ATV skid units in the nation, he no longer felt he could give his volunteer duties the attention they require and deserve.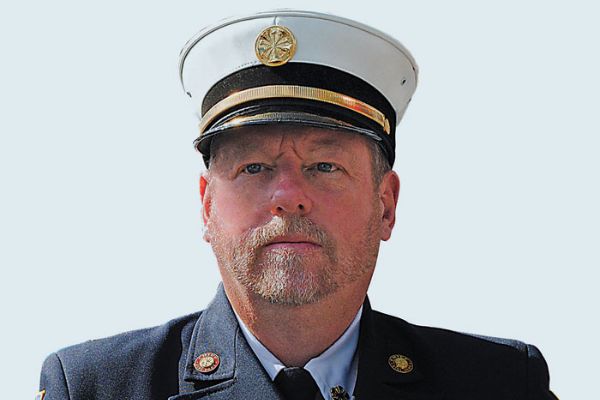 In addition to his management of KIMTEK, Mr. Johnson was a volunteer EMT with 12 years of serving on two ambulance services serving the rural most portions of northern Vermont. For over 9 years, Mr. Johnson was a volunteer firefighter and in 2001, he founded Westmore Fire-Rescue in his small community.
As Fire Chief, and in less than five years, Mr. Johnson saw his fire department grow from 1 to 16 volunteers, a new fire station, 2 class A pumpers, a brand new pumper tanker, a first responder command/EMS vehicle, and a 4×4 rescue utility UTV which was all done through donations, successful grant writing and a $12,000 annual stipend from the town they serve.
Mr. Johnson knows all too well the financial burdens small, rural public safety agencies face. He also knows the need to have the right equipment to get the job done right and safely. When looking for a rescue trailer, rescue sled, or slide-in unit for his department he saw advantages and disadvantages to the current models on the market.
He felt there could be a better design and he and his team of designers set out to come up with a rugged, lightweight, and affordable rescue unit. The MEDLITE® Transport was born!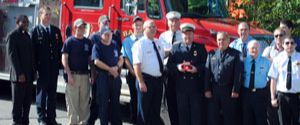 Sept. 11, 2011
Chief Kimball Johnson (Ret) receiving a plaque from the Barton Fire Department in honor of his assistance in getting a FEMA/FIREACT grant which resulted in the purchase of a brand new pumper for Barton, the first new truck for them in over 20 years.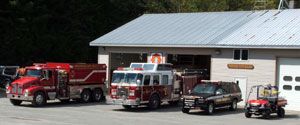 Oct. 01, 2008
This picture shows the latest edition of the WESTMORE FIRE DEPARTMENT apparatus. From L-R: 2005 – 3000 gallon tanker/pumper; 1991 E-ONE Custom Command Cab Pumper; 1999 Chevy Suburban Command/EMS responder; 2006 Kawasaki Mule 3010 with MEDLITE Transport.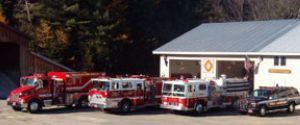 Oct. 01, 2006
This picture shows the WESTMORE FIRE DEPARTMENT on the 5th anniversary of the founding of the department by Chief Kimball Johnson. From L-R: Brand new 2005 3000 Gallon tanker/pumper; 1991 refurbished CF Mack Pumper; 1971 Refurbished Ward LaFrance Pumper; 1999 Chevy Suburban Command/EMS responder.