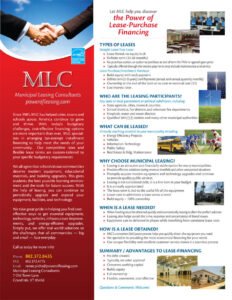 April 10, 2020 – Orleans, VT –– KIMTEK has partnered with the finance professionals at Municipal Leasing Consultants (MLC), of Vermont, to offer emergency service departments timely help with purchase or lease of KIMTEK's essential fire and medical skid units, the UTV chassis and/or the pickup truck chassis. They can assist with the complete project!. For nearly 40 years, MLC has helped cities and towns throughout the country overcome budget challenges with cost-effective financing options. MLC provides competitive rates and flexible lease terms, custom tailored to each departments' specific needs. MLC provides tax-exempt lease, purchase, and bond financing.
"Especially during the financial pressure of the current COVID-19 health crisis and beyond, we know the budgets for fire departments and first response teams are stretched thin," said KIMTEK president, Kimball Johnson. "We have known and respected the finance experts at MLC for decades, and are pleased to link our customers to their services."
More information about MLC's financing options and KIMTEK products is available at www.kimtekresearch.com or by calling 888-546-8358.
KIMTEK Corporation is the largest producer and marketer of ATV/UTV-specific skid units for public safety agencies in the U.S. KIMTEK's FIRELITE® fire and rescue skid units and MEDLITE® medical skid units are now in service in all fifty U.S. states and across Canada, all branches of the military, the National Park Service, numerous NASCAR tracks, sporting complexes, schools, universities, and in several countries worldwide. KIMTEK Transport skid units are made in the USA. Founded in 1984 as a research and development company dedicated to advances in life safety technology in the fire sciences, KIMTEK Corporation manufactures and markets a full line of FIRELITE and MEDLITE Transport skid units for emergency service UTVs and pick-up trucks. For more information, please contact KIMTEK at 888-546-8358 or visit www.kimtekresearch.com.
# # #
KIMTEK®, MEDLITE® and FIRELITE® are registered trademarks of KIMTEK Corporation.