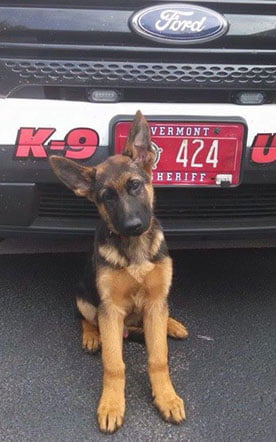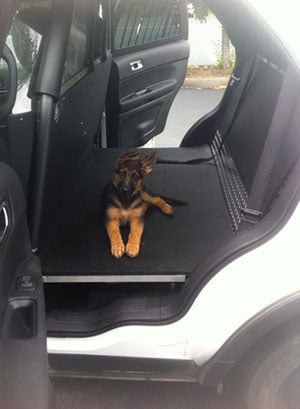 August 2014 – KIMTEK was contacted by Orleans County Sheriff, Kirk Martin, regarding a K9 platform to be built in one of their existing cruisers. As huge supporters of local law enforcement, KIMTEK President, Kimball Johnson, honorably agreed to the job.
K9 Kilo joined the Orleans County Sheriff's Department in early August of 2014 and will be trained by Officer Jacobs as a Narcotic Detection Dog for Orleans County. Drug-crimes are on the rise in the community so having a K9 added to the department's team is a huge asset to our county.
KIMTEK personnel were able to remove the existing rear seats of the SUV cruiser and using aluminum tubing, aluminum diamond plate, and soft rubber matting, constructed a flat surface area for K9 Kilo to comfortably lie while being transported in the vehicle.
KIMTEK is proud to have had a hand in the process and is excited to hear of the achievements Officer Jacobs and K9 Kilo accomplish during their career together.
Kimtek is the largest producer and marketer of ATV/UTV-specific skid units for public safety agencies in the U.S. Kimtek's FIRELITE fire and rescue skid units and MEDLITE medical skid units are now in service in all fifty states, five Canadian provinces and three territories, all branches of the military including in Afghanistan with the U.S. Army, the National Park Service, numerous NASCAR tracks and sporting complexes, and in several countries worldwide. Kimtek Transport skid units are made in the USA.
Kimtek Corporation was founded in 1984 as a research and development company dedicated to advances in life safety technology in the fire sciences. Kimtek manufactures and markets FIRELITE and MEDLITE Transport skid units for emergency service UTVs and pick-up tricks. For more information, please contact Kimtek at 888-546-8358 or visit the company's website at www.kimtekresearch.com.